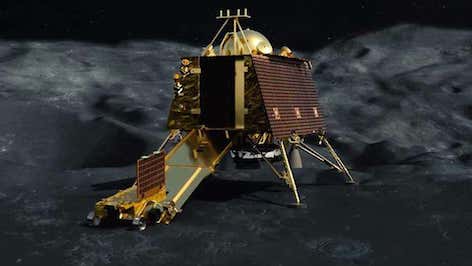 India: Moon Lander Touches Down, But is Silent
India announced on Sunday, 8 September, that its Vikram lander successfully arrived on the surface of the moon, however everything has not gone to plan, as it is 500 metres from the projected landing site and is unresponsive.
The Indian Space Research Organisation (ISRO) has confirmed that they lost contact with the spacecraft on Friday, 6 September.
However, it was spotted via thermal imaging – heat detection – from its lunar orbiter, Chandrayaan-2, two days later.
Doctor K. Sivan, director of ISRO, said that the spacecraft experienced a hard landing, but remained intact and is in a "tilted position".
The team is currently analysing the data from the orbiter, and remains upbeat about re-establishing communications with the spacecraft, based on the assumption that Vikram is not too extensively damaged.
The landing means that India has joined only three other countries who have successfully landed on the moon: Russia, the United States and China.
Image Credit: Source