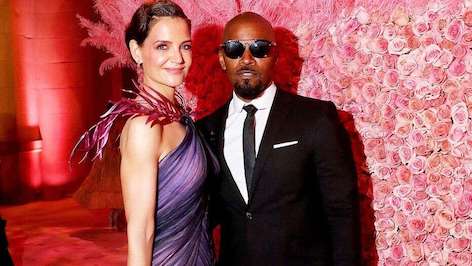 Jamie Foxx and Katie Holmes Split
After six years of romancing, Katie Holmes and Jamie Foxx have called it a day.
They had been together since 2013 – nearly a year after Holmes divorced husband Tom Cruise – but as the two Hollywood stars are very private about their lives, nothing was ever said to make the relationship official.
According to reports, the pair broke up in May, with the 40-year-old "Batman Begins" actress pulling the plug on the low-flying relationship because of Foxx's "disrespectful" behaviour.
News of the split broke just days after Foxx was seen at a Los Angeles nightclub with singer Sela Vave last Friday, 16 August. The 51-year-old rapper was also been seen in the company of an unnamed woman in March, which led to speculation of a breakup.
Sources claim that Holmes was overheard in a restaurant saying: "What [Foxx] does is his business – we haven't been together for months."
Neither Foxx nor Holmes have commented publicly regarding the split.
Image Credit: Source