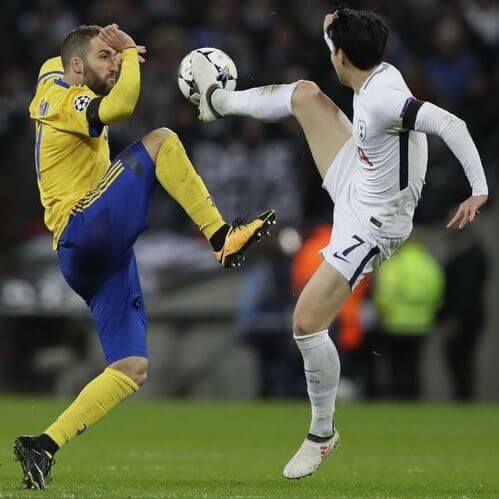 Juventus Stuns Tottenham
Tottenham Hotspur have been knocked out of the Champions League, after losing to Juventus 2-1 in a shock defeat.
The Spurs looked on track for the quarter-finals after Son Heung-min scored the first goal of the match in the 39th minute.
But the Serie A side came back with a vengeance, scoring twice in the span of just three minutes, as Gonzalo Higuain found the net in the 64th minute, and then played in Paulo Dybala to score shortly afterwards.
Harry Kane came close to scoring a late equaliser, but his header hit the post.
The Spurs have not made the Champions League last eight since the 2010/2011 season.
Tottenham boss, Mauricio Pochettino, said he was "proud" of his team and felt they were "much better" than Juventus, despite losing to them.
Pochettino said that his team did not lack concentration or experience, they simply conceded three chances – and Juventus scored twice – while the Spurs created many chances, but only scored once.
Tottenham will face Bournemouth in the Premier League on Sunday.
Image: Gonzalo Higuain and Son Heung-min go for the ball [online image] (2018) sourced on 8 March 2018 from https://bloximages.chicago2.vip.townnews.com/moultonadvertiser.com/content/tncms/assets/v3/editorial/2/35/23521b45-32cb-5063-a3fe-29c709fb21ef/5aa06384632eb.image.jpg?resize=760%2C519