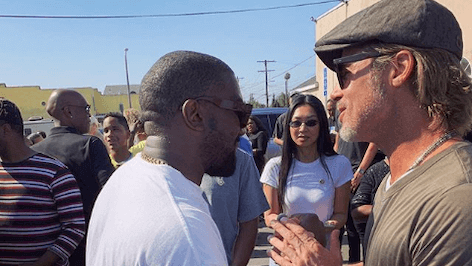 Kanye West: Please be Seated, Congregation & Brad Pitt
Kanye West's semi-regular Sunday service has been gaining major attention recently, and during a recent gathering at a church in Watts, California, the latest fan to make an appearance was Brad Pitt.
The "Gold Digger" hitmaker was overseeing a religious service with a large crowd of faithful in the parking lot of a church yesterday, 1 September, when Pitt showed up.
Apparently the 55-year-old "Fight Club" actor is a fan of West's preaching, and this was his second visit. Social media lit up when several churchgoers noticed Pitt in the gathering and many were surprised to see him in attendance.
Other stars attending the service included Adrieene Bailon, Kourtney, Khloe and Kim Kardashian, and Kendall Jenner.
West's upcoming album – given the working title "Jesus Is King" – is expected to be released on 23 November. The album will seemingly be based on the same sort of sound as his worship gatherings.
Image Credit: Source