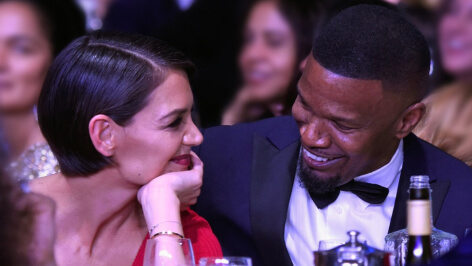 Katie Holmes and Jamie Foxx to Wed in Paris
Katie Holmes and Jamie Foxx are reportedly planning to get hitched in Paris, France.
The couple secretly began dating five years ago. Their relationship came to light in September last year, when they were pictured holding hands on the beach in Malibu.
Holmes was also spotted wearing a diamond ring on her pinky finger earlier this month.
A source close to the couple told a media outlet that the couple want to have a "winter wedding" in Paris.
The source explained: "Paris is the city where they decided to go public with their romance after years of sneaking around."
The source added: "[Holmes] has waited a long time to marry [Foxx] … she's desperate for a winter wedding in the City of Lights."
Once married, Foxx will formally adopt Holmes' 12-year-old daughter, Suri, who has not been seen by her own father – actor Tom Cruise – in five years since her parents' divorce in 2012.
Image: Katie Holmes and Jamie Foxx. [online image] (2018) sourced on 30 November 2018 from: https://i0.heartyhosting.com/radaronline.com/wp-content/uploads/2018/11/Katie-holmes-jamie-foxx-tie-the-knot-Paris-pp.jpg?fit=1200%2C788&ssl=1