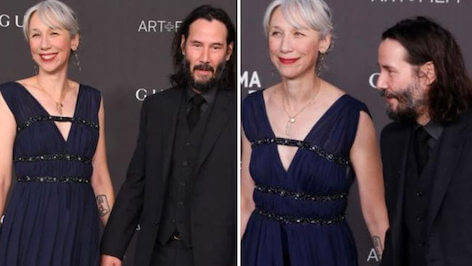 Keanu Reeves Shows Off New Love to the World
Keanu Reeves has wowed the world by doing something we haven't seen in years: he was out and about with his new girlfriend, and even showed some public affection.
The 55-year-old Hollywood star was seen holding hands with 46-year-old artist, Alexandra Grant, whilst attending an art and film gala held at the County Museum of Art in Los Angeles on Saturday, 2 November.
The couple rarely let go of each other and traded lingering glances whenever the cameras were on them. Reeves stared longingly at Grant as they walked past photographers, whilst heading inside the museum.
Rumours have been swirling for weeks about how serious the "Matrix" actor was getting with the artist, and the museum outing confirmed everyone's suspicions.
In mid October, the couple was spotted leaving a sushi bar on Sunset Boulevard looking very happy. Grant even rested her head on the "Bill and Ted" star's shoulder has they walked along.
Reeves is known for strictly maintaining the privacy of his personal life. He was last publically romantically linked to Jennifer Syme, who passed away at the age of 28 from a car accident in 2001.
Image Credit: Source