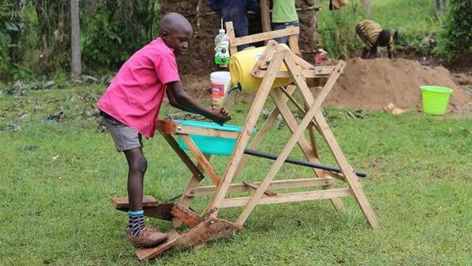 Kenya: Boy, 9, Awarded for Hand-Washing Invention
A nine-year-old Kenyan boy has received a presidential commendation for creating a wooden hand-washing machine to help fight against the coronavirus (COVID-19).
The country currently has 2 093 confirmed cases of COVID-19. Out of that amount, 499 people have recovered, while 71 people have succumbed to the disease.
On Monday, 1 June, young Stephen Wamukota was among 68 Kenyan citizens who received the Presidential Order of Service, the Uzalendo Award – a prize allocated to those who have assisted in combating the pandemic.
Wamukota – who hails from Mukwa in western Bungoma County – created the machine with the help of his father, James. It allows users to tip a bucket of water using a foot pedal to avoid touching surfaces to reduce infections.
The youngster says he was motivated to invent the machine after hearing people relaying their fears about washing their hands while potentially being exposed to COVID-19.
With two machines already built, Wamukota plans to create more.
Image Credit: Source