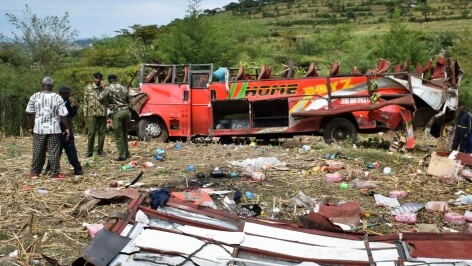 Kenyan Bus Crash Claims 50 Lives
At least 51 people have been confirmed dead after the bus they were travelling in overturned in an accident today in western Kenya.
According to witnesses and the police, the bus – carrying 61 passengers – was travelling from Nairobi to the western town of Kakamega.
While driving down a notoriously deep slope, the driver had apparently lost control of the bus, which then overturned and rolled into a ditch.
Among the confirmed casualties are 32 men, 12 women and seven children.
Speaking to a media outlet, Rift Valley Provincial Traffic Officer Zero Arome said that the roof of the bus had been ripped off during the accident.
Video footage taken from the accident scene shows the bus lying on its side and the torn-off roof lying at a distance.
Injured passengers have been rushed to Fort Ternan and Muhoroni Sub-County hospitals for treatment.
Image: Kenyan police and other rescuers attend the scene of a bus crash near Kericho in western Kenya Wednesday, Oct. 10, 2018. [online image] (2018) sourced on 10 October 2018 from:
https://www.washingtonpost.com/resizer/5TvS2S-0cwF-8eIxICndSbeKkx4=/480×0/arc-anglerfish-washpost-prod-washpost.s3.amazonaws.com/public/PRQYWGGMOII6RLIKBYA67OR4YE.jpg