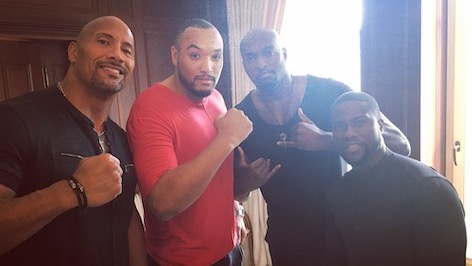 Kevin Hart Gets to Work after Car Crash
Kevin Hart has returned to work after surviving a terrible car accident a month ago.
The "Jumanji" star is already promoting the next installment in the film franchise, along with his co-stars Dwayne Johnson, Danny DeVito and Danny Glover. The upcoming film, titled "Jumanji: The Next Level", is expected to be released on 13 December.
The 40-year-old comedian's friend, Jared Black, lost control of the vintage car and rolled into an embankment in the Malibu Hills of Los Angeles, on 1 September.
Hart suffered a fractured spine and required surgery. He then spent the next ten days recovering in the hospital.
He remained silent on social media during this time. However, friends have confirmed that he is recovering well, with his wife, Eniko Hart, saying that he "will be fine".
Meanwhile, a California Highway Patrol report released on Thursday, 10 October, revealed that not one of the car's three occupants was wearing a seatbelt at the time of the accident.
Sources say Black and his fiance, Rebecca Broxterman, have enlisted the services of an attorney, implying a lawsuit is likely to follow.