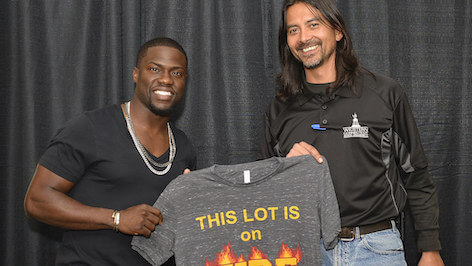 Kevin Hart Released 10 Days After Car Accident
Kevin Hart is on the road to a speedy recovery, and is making sure not to cut any corners.
The 40-year-old comedian was discharged from a Los Angeles hospital yesterday, 11 September, after he was involved in a car crash at the start of the month.
He underwent back surgery after the car he was travelling in with two others – driver Jared Black, and Black's fiancee, Rebecca Broxterman – landed in a ditch along Mulholland Highway in the Malibu hills.
As per reports, Black's condition is still unknown but Broxterman suffered only "light" injuries.
The "Central Intelligence" actor's co-star and close friend, Dwayne "The Rock" Johnson, shared news about Hart's recovery.
Johnson said: "Everything is good, I spoke with [Hart], I actually refer to him as my son. I love the guy, he's one of my best friends. And honestly, I mean, thank God, it could've been a lot worse. So, he's a lucky man, and he knows it too."
Hart is yet to make a public statement about the accident.