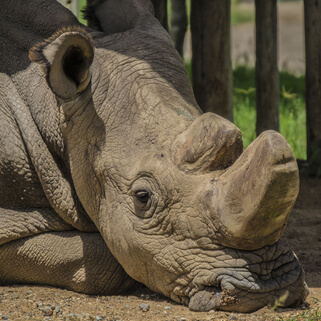 Last Male White Rhino Dies
The last surviving male northern white rhino has died after a long illness.
The 45-year-old rhino, named Sudan, lived at the Ol Pejeta Conservancy in Nanyuki, Kenya.
He was euthanized by a veterinary team on Monday, after being unable to stand, and suffering from a series of infections related to his old age.
Sudan's death leaves only two surviving northern white rhinos: his daughter, Najin, and granddaughter, Fatu.
This means that in-vitro fertilization from preserved sperm is the last option to fight against the extinction of the species.
Sudan was not been able to successfully mate and reproduce before he died.
The second-to-last male, Suni, died in 2014. Both Sudan and Suni were likely too old to be fertile by the time they were brought to Kenya from a Czech Republic zoo in 2009.
Ol Pejeta Conservancy chief, Richard Vigne, said: "We at Ol Pejeta are all saddened by Sudan's death. He was an amazing rhino."
Vigne added that Sudan will be remembered for the work he did to raise awareness around species facing extinction because of unsustainable human activity.
Sudan's death comes as other rhino populations are globally on the brink of extinction, largely due to poaching.