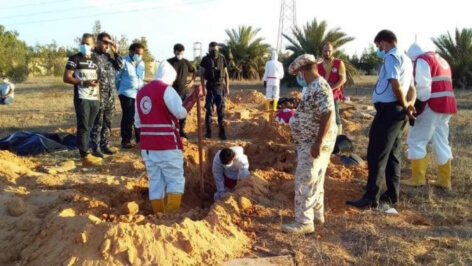 Libya: 75 Bodies Discovered in Mass Grave
A mass grave containing 75 decomposed bodies has been discovered in the coastal city of Sirte in western Libya.
According to Mohamad al-Amial, the city's municipal council spokesman, the mass grave was found "a few days ago" in an agricultural area of al-Daheir, west of Sirte, located 600 km east of Tripoli.
The bodies – recovered in the presence the public prosecutor, Sirte's security force and the Red Crescent humanitarian aid group – are believed to be of Islamic State (ISIS) group members.
Sirte was previously overrun by ISIS in June 2015. The group was then expelled from the area in December 2016 by Libya's UN-backed unity government after eight months of combat.
ISIS has since established training centres and carried out attacks in several parts of the country.
The group claimed responsibility for a suicide attack last month on the Tripoli headquarters of Libya's National Oil Company (NOC) that killed two staffers. It also claimed responsibility for an assault in May this year on the country's electoral commission, in which 14 people died.
Red Crescent in Libya. [online image] (2018) sourced on 11 October 2018 from:
https://www.libyanexpress.com/wp-content/uploads/2018/10/photo6p6ub1b5qxkigtu-620×349.jpg