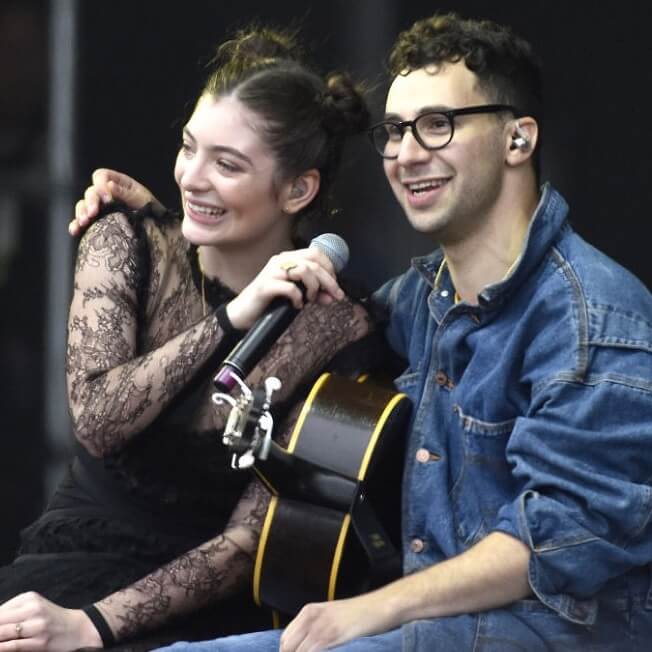 Lorde Denies Dating Rumours
Lorde has finally spoken out about the rumours – which have been going on for months – that she is dating Jack Antonoff.
Increasing speculation about the pair skyrocketed after they were photographed hugging and holding onto each other in Auckland, New Zealand, earlier this week.
The two have also collaborated musically, and Lorde has referred to him as her "work husband".
Antonoff, who is best known as the lead singer and songwriter of Bleachers and the lead guitarist of Fun, co-produced Lorde's award-winning new album, Melodrama.
In a live Instagram chat with her followers, the 21-year-old songstress responded to a fan who asked if she was dating Antonoff.
Lorde responded: "Guys, no! Jack and I are not dating…I love him. He's awesome, but we're not dating!"
Antonoff has also vehemently denied the rumours that the two are a couple. In January, he responded angrily to suggestions that he left his girlfriend of five years, Lena Dunham, for Lorde, calling it "dumb gossip".
Lorde split from her boyfriend of three years, James Lowe, in 2016, and she says that she used the heartbreak from their break-up as fuel to write many of the songs on her new album.
Image: Lorde and Jack Antonoff [online image] (2017) sourced on 26 February 2018 from https://images.hellogiggles.com/uploads/2018/02/23041359/lorde-jack-antonoff.jpg