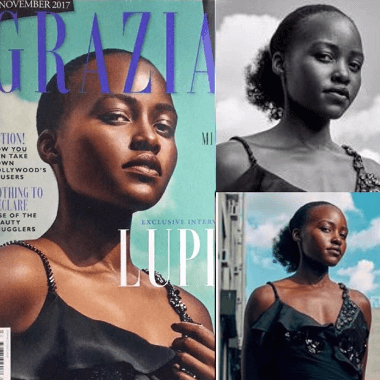 Lupita Nyong'o Furious over Photoshop
Lupita Nyong'o has called out Grazia Daily UK magazine for using photoshop to remove her natural hair.
The Oscar-winning actress appears to have a shaved head on the cover of the British fashion publication's November issue.
But, as the 34-year-old beauty wrote on her Instagram page, she actually posed for the photo with her natural hair pulled back into a ponytail.
Nyong'o was born in Mexico to Kenyan parents, and grew up in Kenya. She has often spoken of her pride for her African heritage.
In a passionate Instagram post, Nyong'o accused the magazine of editing out and smoothing down her "kinky, coily" hair to fit a more European standard of beauty.
The actress added: "Had I been consulted, I would have explained that I cannot support or condone the omission of what is my native heritage."
Nyong'o said that the move is an example of the widespread unconscious bias against "black women's complexion, hair style and texture".
She finished off the post with "#dtmh", which stands for, "Don't touch my hair".
The hashtag was originally started by Solange Knowles after a similar incident.
Last month, another British fashion magazine, the Evening Standard, featured Solange on the cover after airbrushing out her crown of braids.
Image: Lupita Nyong'o shares before and after photos from the Grazia shoot [online image] (2017) sourced on 10 November 2017 from https://alexis.lindaikejisblog.com/photos/shares/5a05483aa1c0b.png