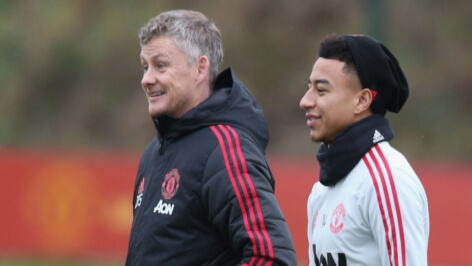 Man United's Jesse Lingard Praises Ole Gunnar Solskjaer
Manchester United attacking midfielder, Jesse Lingard, says the squad has settled under the leadership of caretaker-manager, Ole Gunnar Solskjaer.
The club had been languishing on the Premier League table under the poor management of Jose Mourinho, who had been sacked in December last year.
Following the 45-year-old Norwegian's temporary appointment, the rejuvenated Red Devils have remained unbeaten in 10 games. Their successful performances have landed them back in the top five of the league.
Lindgard said that a decision to make Solskjaer a permanent coach would be welcomed by the players.
He said: "[Solskjaer] has been there and done that. He understands what is needed from Man United players, to wear that shirt with pride and passion, and to put 100% in week-in, week-out. He passed that message to us and we are doing the same."
Lingard added: "We are back to winning ways now and that's the way it should be. [Solskjaer] has been great since he has come in and he has got the lads working hard."
Image: Ole Gunnar Solskjaer and Jesse Lingard. [online image] (2019) sourced on 7 February 2019 from: https://d2x51gyc4ptf2q.cloudfront.net/content/uploads/2019/01/28104317/Ole-Gunnar-Solskjaer-Jesse-Lingard-Football365.jpg