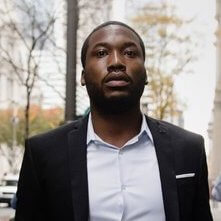 Meek Mill's Lawyer Accuses Judge
Meek Mill's lawyer, Joe Tacopina, claims that Judge Genece Brinkley was biased against his client, leading to her harsh sentence.
On Monday, Judge Brinkley sentenced the rapper to two to four years in jail for violating his parole.
Mill – real name Robert Williams – has been out on parole since 2009 after serving a year in prison for a drugs and weapons charge.
Mill's parole violations include two arrests in the past year – charges were later dropped – and leaving the state repeatedly without permission.
Judge Brinkley has overseen the rapper's case since 2008, and said at sentencing: "I gave you break after break, and you basically just thumbed your nose at this court."
Her ruling, however, went against the recommendation of the Assistant District Attorney and the Probation Officer.
According to Tacopina, Judge Brinkley has behaved inappropriately over the course of the case.
Judge Brinkley reportedly asked the rapper to include her name in a song, and suggested that he leave his current label for one run by a friend of hers.
Tacopina said that Judge Brinkley's behaviour is highly inappropriate and "some sort of obsession".
Mill and Tacopina plan to appeal the ruling.
Image: Meek Mill arrives at the courthouse [online image] (2017) sourced on 8 November 2017 from https://static01.nyt.com/images/2017/11/07/us/08xp-meekmill/08xp-meekmill-superJumbo.jpg