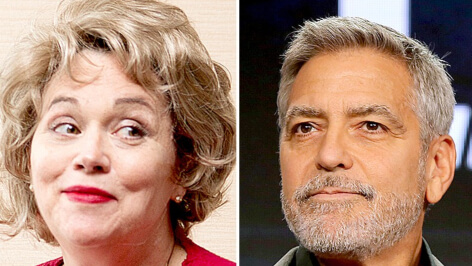 Meghan Markle's Half-Sister Slams George Clooney
George Clooney has come under fire from Meghan Markle's half-sister after he defended the former "Suits" actress from the negative public criticism she has received.
The "Ocean's Eleven" actor – who attended Markle's wedding to Prince Harry in May last year – came to her defence when he appeared on the Television Critics Association panel in Pasadena, California, on Monday, 11 February.
Clooney said: "They're just chasing Meghan Markle everywhere … she's a woman who is seven-months pregnant, and she has been pursued and vilified and chased in the same way that [Princess] Diana was … we've seen how that ends."
Two days later, Markle's estranged half-sister, Samantha – who has frequently criticised the Duchess of Sussex – slammed Clooney's remarks on Twitter.
She tweeted: "Hey Looney Clooney! Your lawyer wife [Amal] should have taught you not to make statements without full facts [sic]."
She later tweeted: "I doubt #GeorgeClooney would ghost his mother for no legitimate reason. Be quiet Georgie [sic]."
Image Credit: Source