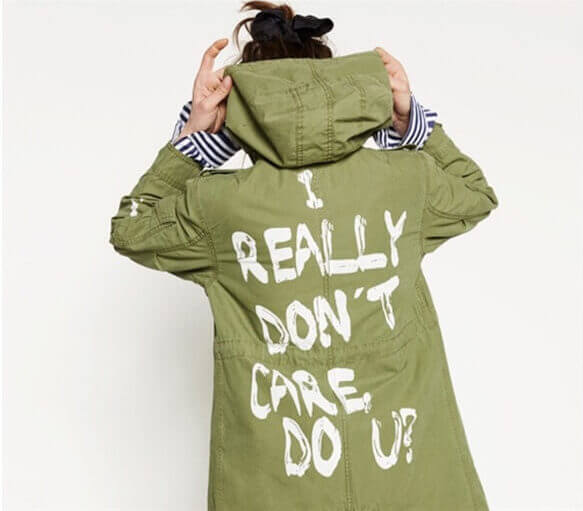 Melania Trump's jacket sparks criticism
First Lady of the United States, Melania Trump, sparked major social media disapproval with her choice of clothing after she was seen boarding a flight en route to a migrant child detention centre in McAllen, Texas on Thursday.
"I really don't care, do u?" was featured in large white characters on the back of her military-style jacket, and has been described by critics as disrespectful, and showing a lack of empathy for the detained children she was visiting.
This incident comes just a day after Trump signed an executive order to alter his administration's policy of separating children from their migrant parents who have illegally entered the United States.
Spokesperson for the First Lady, Stephanie Grisham, stated that "there is no hidden message" behind the jacket, and criticised the US media's focus on the First Lady's taste in fashion, rather than her visiting important areas and showing solidarity with those affected.
Ms Trump visited Upbring New Hope Children's Centre, and listened to caregivers explain how well they have treated the children.
Despite the controversy, Ms Trump still wore the jacket after her visit and ignored questions from the press when she returned to the plane to take her back to Andrews Air Force Base near Washington.
US President Donald Trump responded to the criticism in a tweet by explaining that his wife's jacket referred to what he called the "Fake News Media". Trump has been hostile towards many press outlets critical of him and his policies, that he has described as "Fake News" in recent years.
This is not the first time Ms Trump has received criticism regarding her wardrobe choice – social media raged in August 2017 after she wore stilettos on a tour of flood-stricken areas around Houston.
Image: The offending jacket [online image] (2018) sourced on 22 June 2018 from https://cdn.24.co.za/files/Cms/General/d/7571/b4fedc573cc6421c8ae2f428484a5f58.jpg