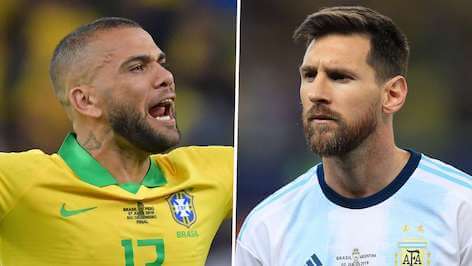 Messi Left Friendless After Alleging Copa America Corruption
Lionel Messi has come under fire after he continued claims that his side was a victim of Copa America being corrupted, following their 2-1 win over Chile on Saturday, 6 July.
He had initially made the claims after his side's 2-0 loss to Brazil last Wednesday, 3 July.
The Argentinian forward received a red card for dubious reasons near the end of the first half of the match – for third place in the tournament – in Sao Paolo, and declined to be present at the medal ceremony afterwards.
The South American football confederation found Messi's claims on the integrity of the tournament to be "unacceptable".
Dani Alves also had harsh words for his long-time team-mate: "Firstly, [Messi] is disrespecting an institution such as the Selecao, in my view. Secondly, he's being disrespectful with several professionals who put a lot of things aside so they could be there fighting for a dream."
Alves added: "I'm a friend who always tells the truth when it's due, and I think he was wrong for saying these things."
Image Credit: Source