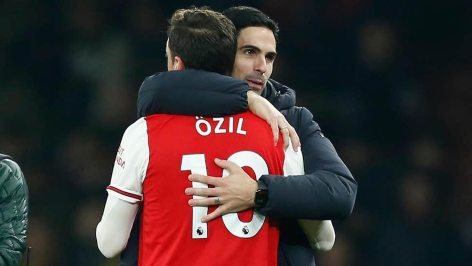 Mesut Ozil: Arteta 'the Right Man at This Club'
Arsenal midfielder, Mesut Ozil, has nothing but praise for the club's new coach, Mikel Arteta.
Arteta – who previously worked as an assistant coach for Manchester City – was appointed the Gunners' heach coach last December, after Unai Emery was sacked by the club.
In a recent interview with a media outlet, Ozil – who famously clashed with Emery in the past – had only positive things to say about Arteta's leadership.
He said: "It is basically getting us back to the old Arsenal virtues. Fighting and having possession, being in control of the game, having the ball all the time. These are the things that [Arteta] is working on with us, and you can see it – everyone is smiling, laughing, enjoying their time – it has made us successful. I think he is the right man at this club."
In a possible dig at Emery, Ozil added: "[Arteta] knows what to say to us, how to give us a positive attitude and how to make us successful."
Image Credit: Source