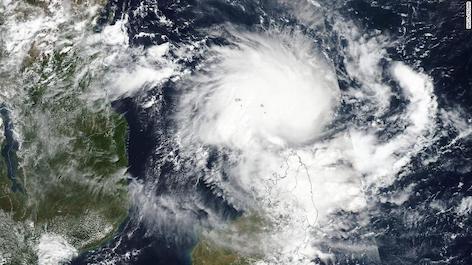 Mozambique Hit By Second Cyclone
The strongest cyclone ever to hit Mozambique has made landfall, whilst the country is still struggling to contain the damage left behind by Cyclone Idai last month.
Cyclone Kenneth hit the southern african country's northern province of Cabo Delgado last night, and its 220km/h winds have reportedly already claimed at least one life. This is the first time in reported history that Mozambique has been hit by two cyclones consecutively in one season.
Cyclone Idai – which ravaged Mozambique, Malawi and Zimbabwe just six weeks ago – left more than 900 people dead, and thousands displaced from all the destruction.
Idai wiped out crops on the eve of harvest, and Kenneth is likely to complicate the country's food troubles even further. It is estimated that at least three million people require humanitarian aid after Idai, and the number is likely to rise once Kenneth has passed through.
Disaster management agencies in neighbouring nations – even Zimbabwe, which happens to be more inland – are on high alert, in case they too are affected by the storm..
Image Credit: Source