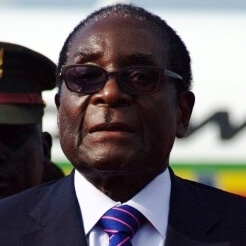 Mugabe Causes "Panic"
Zimbabwe's ex-president, Robert Mugabe, has sent shockwaves through his former party, ZANU-PF.
The ousted leader has caused speculation that he is returning to politics, after he posed for a photograph with Ambrose Mutinhiri.
Mutinhiri is a retired general, who abruptly resigned from ZANU-PF last week, to become the leader of new opposition party the National Patriotic Front (NPF), which will go up against the ruling party in this year's election.
The pro-Mugabe splinter party featured the photograph at the top of a press release issued recently, which appears to indicate that Mugabe has thrown his support behind the new party.
Shortly afterwards, ZANU-PF Youth League supporters chanted "down with Mugabe" at a rally, a rare outburst from the normally disciplined members of the party.
Current president, Emmerson Mnangagwa, has reportedly warned Mugabe about his recent political activity.
Mnangagwa said that he was "unhappy" about the photograph, and told the nonagenarian "not to rock the boat".
Mnangagwa also said that his government was "examining" the facts and would take the necessary measures once the investigations were concluded.