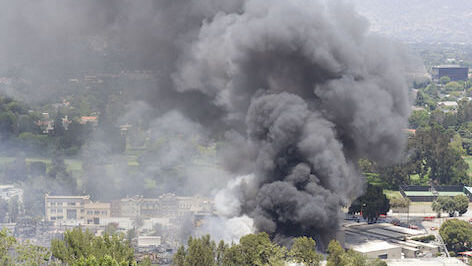 Musical Legacies Gone up in Smoke
The musical world lamented on Wednesday, 12 June, over new information that has unveiled the truth about a fire that destroyed many recordings in the backlot of Universal Studios Hollywood over a decade ago.
On 1 June 2008, a fire broke out in the famous studio lot, making its way through several buildings and streets. The inferno devastated the popular "King Kong" attraction, and caused irreparable damage to a nearby Universal Music Group (UMG) archive that contained one-of-a-kind master recordings.
According to a 2009 report by Universal Music, over 500 000 song titles were lost. The tapes date back to the 1920s and contained work from artists such as Buddy Holly, Aretha Franklin, 2Pac, Nine Inch Nails, Nirvana and Elton John.
Musicians and fans have heavily criticised UMG for downplaying what reports have described as "the biggest disaster in the history of the music business".
Singer Sheryl-Crow posted on Twitter: "Oh my Lord … this makes me sick to my stomach. Why???? …and shame on those involved in the coverup."