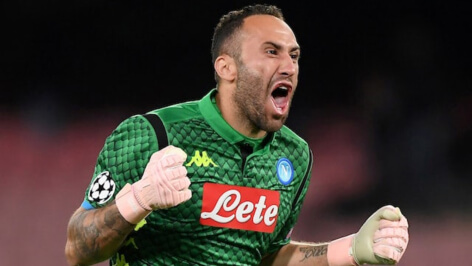 Napoli's Ospina Collapses During Udinese Clash
Napoli goalkeeper, David Ospina, collapsed on the pitch and was taken to the hospital with a head injury during the club's Serie A clash with Udinese on Sunday, 17 March.
In the seventh minute of the match, the 30-year-old Colombian – who is currently on loan from Arsenal – dived to meet a low cross when he collided with Udinese player, Ignacio Pussetto.
As a result, Ospina sustained a cut to his head, but continued to play after receiving treatment.
During the 44th minute, however, he collapsed on the ground, prompting Napoli's medical staff to stretcher him off the pitch before taking him to the hospital. He was replaced by goalkeeper Alex Meret.
Napoli – who went on to beat Udinese 4-2 – later released a statement containing an update on Ospina's injury.
It read: "David Ospina has had a CAT scan after being involved in a collision during the game. The scan has come back clear, but Ospina will stay in a clinic overnight for observation."
Image Credit: Source