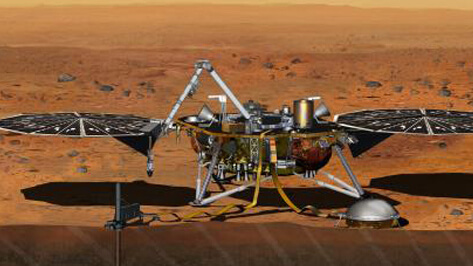 NASA's InSight Sitting Pretty on Mars
NASA's InSight lander had a smooth touch down on the surface of Mars last night, 26 November, around 9 pm (GMT-8).
The mission was co-ordinated by NASA's Jet Propulsion Laboratory in Pasadena, California; the robotic craft was launched from California's Vandenberg Air Force Base in May this year.
The landing starts a two-year long research mission into what the Red Planet is made out of and to study the stability of its surface.
InSight is the first spacecraft to be sent to Mars since the Curiosity rover in 2012. InSight will not only explore the surface, but also drill into the planet's crust to check its temperatures and study seismic activity.
The craft is expected to collect information on Mars until November 2020; the data gathered will help scientists determine how similar the Red Planet is to Earth.
NASA announced, via its InSight account on Twitter, the successful landing with an image of the barren Mars surface and the caption: "There's a quiet beauty here. Looking forward to exploring my new home. #MarsLanding [sic]"