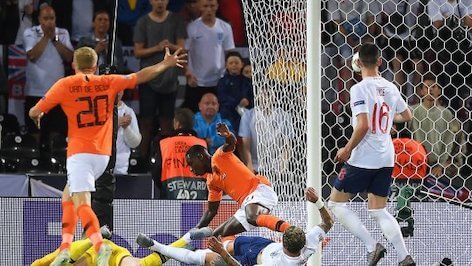 Netherlands Stuns Fans With Win Over England
English football team fans were left with their mouths open in shock after their team lost 3-1 to the Netherlands in their UEFA Nations League semi-final on Thursday night, 6 June.
A successful penalty strike from Marcus Rashford at the 32 minute mark gave the Lions a first-half advantage, but their luck soon ran out.
With 17 minutes left on the clock, Matthijs de Ligt brought the Netherlands back into the game by skillfully rising up to Memphis Depay's corner kick for a spectacular header.
The English defense was full of holes, giving away two extra-time errors to the Netherlands, resulting in two additional goals: an own goal from Kyle Walker at 97 minutes, and an error from John Stones allowed Quincy Promes to score at the 114-minute mark, and seal England's fate.
England will play against Switzerland for third place on Sunday, 6 June, while the Netherlands will meet Portugal in the finals later that day. Kick-off is at 6pm GMT.
Image Credit: Source