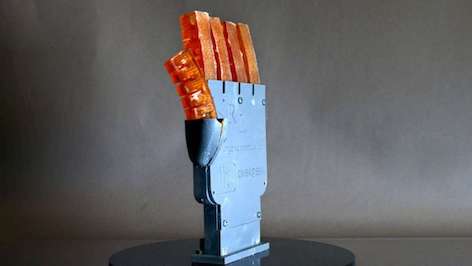 New Robots Will 'Sweat' to Cool Down
Robotic technology is advancing at such a pace that soon we will be able to build robots resembling humans which can "sweat".
Researchers from Cornell University in New York City claim they have reached the next crucial step in creating high-powered robots that will be able to self-regulate their temperature.
Thomas Wallin, co-lead on the project and a researcher scientist at Facebook Reality Labs, said: "The ability to perspire is one of the most remarkable features of humans."
He added that the ability allowed for dissipating heat and cooling down, providing an excellent biological guide for study's engineers.
The team have devised soft robotic grippers – resembling human hands, complete with fingers made from polymer materials containing micropores – that are capable of retaining water, and respond to temperature by sweating to cool down.
Co-lead author, Rob Shepherd, said that the future of making these robots more human-like will heavily depend on the substances used to create them.
There are currently no means for the robots to refill their water reserves, but this step provides one part of the larger puzzle.
Image Credit: Source