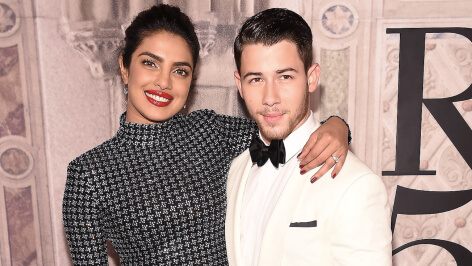 Nick Jonas and Priyanka Chopra Tie the Knot
Singer Nick Jonas and actress Priyanka Chopra are officially married.
The couple – who got engaged in July this year – tied the knot in a Christian wedding ceremony on Saturday, 1 December, at the luxurious Umaid Bhawan Palace in Jodhpur, Rajasthan in India.
The wedding festivities began on Wednesday, 28 November, and continued until the big day arrived, with Jonas' father, Paul Kevin, presiding over the ceremony.
Dressed in a custom-made Ralph Lauren wedding gown, the "Quantico" actress exchanged Chopard rings with the "Levels" hitmaker.
Guests spotted at the event – including Sophia Turner and Jonas' brothers, Joe and Kevin – also wore outfits designed by Ralph Lauren, who got them together in the first place when he invited them to attend the 2017 Met Gala.
According to a source, the newly-married couple followed up the ceremony with a traditional Hindu wedding the next day, in celebration of Chopra's heritage and culture.
Image: Priyanka Chopra and Nick Jonas. [online image] (2018) sourced on 3 December 2018 from: https://peopledotcom.files.wordpress.com/2018/09/priyanka-chopra-3.jpg