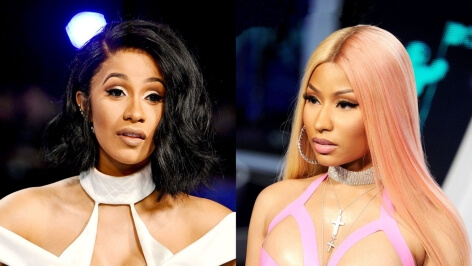 Nicki Minaj to End Feud with Cardi B?
Nicki Minaj claims that she wants to end her heated feud with Cardi B.
For months, the "Pound the Alarm" hitmaker has been at odds with the "Bodak Yellow" rapper, with their beef coming to a violent head when they both attended a New York Fashion Week event in early September.
Speaking on Beats 1 radio show "Queen Radio", Minaj stated that she wanted to move on from their feud.
She said: "I love where I am in my life. I was fine with leaving everything good. We can just be happy … I'm perfectly fine with never talking about this again."
Despite this supposed peace-offering, Minaj was not afraid to slam Cardi B's sister Hennessey, who accused her of leaking the rapper's phone number.
She said: "You have your sister calling me a crackhead and leak numbers? … I've never leaked a number in my life, and y'all continue to lie on me to make me look like a bad person."
Image: Cardi B and Nicki Minaj. [online image] (2018) sourced on 30 October 2018 from: https://consequenceofsound.files.wordpress.com/2018/09/nicki-minaj-and-cardi-b.jpeg?quality=80