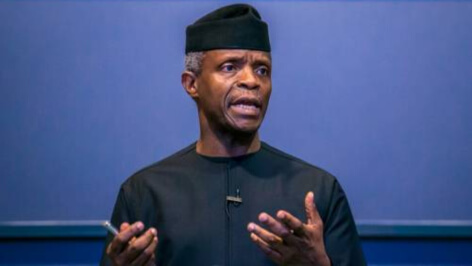 Nigerian VP Survives Helicopter Crash-Landing
Nigeria's vice-president is reportedly "safe and sound" after the helicopter he was travelling in crash-landed in the country's Kogi state.
Yemi Osinbajo and nine others were on their way to an election campaign rally in the town of Kabba on Saturday, 2 February, when the hired helicopter unexpectedly crash-landed. They escaped unharmed, and Osinbajo continued on the campaign trail for the ruling All Progressives Congress (APC) party.
In a tweet posted on the same day, Osinbajo said: "We are safe and sound! Thank you to everyone who has expressed concern and thank you to the crew who managed the situation well."
Details surrounding the cause of the crash are unclear. However, per eyewitness reports, dust thrown up as the helicopter approached to land by the Kabba Township Stadium may have impaired the pilot's visibility. It is also surmised that one of the rotor blades detached from the mast as it was coming down.
An investigation is currently underway.
Image: Vice President Yemi Osinbajo. [online image] (2019) sourced on 4 February 2019 from: http://saharareporters.com/sites/default/files/styles/normal_medium/public/VP-visits-HBS-by-NOVO-ISIORO.6.jpg?itok=XeSv3fv