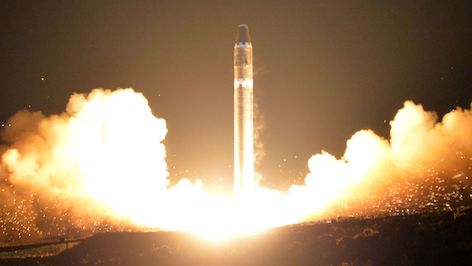 North Korea Shoots Off "Unidentified Projectile"
North Korea has made another launch this morning – just five days after its last – according to reports from the South Korean military.
South Korea's Joint Chiefs of Staff were unable to identify the projectile that was launched, but confirmed that it was fired from the Sino-ri location, just north of the capital, Pyongyang, in the western area of the country.
North Korean state media described the launch as a test of its new short-range ballistic missile.
A test held last Sunday, 4 May, caught the attention of world powers when North Korea fired several short-ranged missiles from its eastern coast.
Talks related to North Korea giving up its nuclear programme held in February between US President Donald Trump and North Korean leader Kim Jong-un ended poorly. North Korea wants compensation from widespread sanctions, in return for US-proposed disarmament steps, but President Trump walked away from the "bad deal".
Long-range ballistic missile tests have been banned by the United Nations as they are seen as a threat to global security and stability.
Image Credit: Source