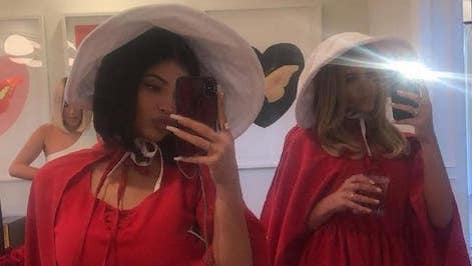 Not So Blessed: Kylie Jenner Slammed over Tasteless Party Theme
Social media has blown up with harsh words for Kylie Jenner after she hosted a "Handmaid's Tale"-style party on Saturday, 8 June, for her close friend, Stassie Karanikolaou.
The "Keeping Up With The Kardashians" star put up multiple videos and images on Instagram from the birthday bash for her 22-year-old bestie; she showed off images of herself and friends – including model friend, Sofia Richie – dressed up as the television series' titular Handmaids.
The popular series is based on the best-selling 1985 novel of the same name by Margaret Atwood, and the story revolves around a dystopian future with a fascist USA that treats women as slaves.
The 21-year-old socialite's choice of party theme has widely been condemned as insensitive, especially at a time when women's reproductive rights are under fire in several US states.
Costumes from the show have been used in protests held in said states.
Neither Jenner nor Karanikolaou have commented yet on the backlash.
Image Credit: Source