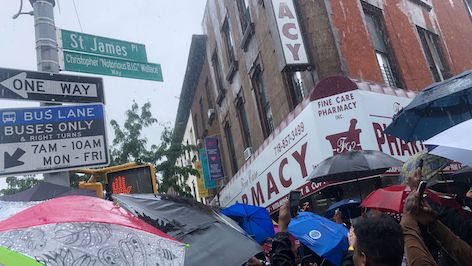 Notorious B.I.G: Now a Street in NYC
Late rapper Notorious B.I.G. has been immortalised with a street in New York named after him on Monday, 10 June.
The musician – real name Christopher Wallace, A.K.A "Biggie Smalls" – was born and raised in the Brooklyn borough of New York City. He was murdered on 9 March 1997, in a drive-by shooting in Los Angeles.
Despite the rain, friends, family and fans showed up to pay their respects to Wallace's memory.
The corner of Fulton Street and St. James Place in Clinton Hill was honoured with a ceremony revealing the name "Christopher 'Notorious B.I.G.' Wallace Way".
Wallace's mother, Voletta Wallace, and rapper and Wallace's former girlfriend, Lil' Kim, were in attendance. Other famous names included Biggie's wife, singer Faith Evans, and Wallace's close friend and collaborator, Sean Combs.
Upon the name reveal, Lil' Kim excitedly announced: "We did it, Brooklyn!"
Voletta Wallace said: "This is going to be a love street. People are going to come here and they're going to know that a young man, my son, was living here."
Image Credit: Source