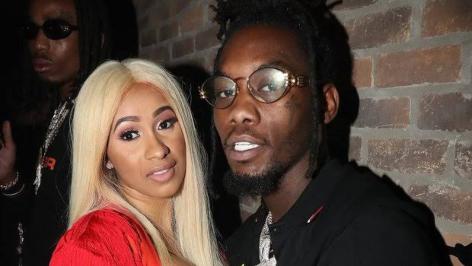 Offset Called Out for Cheating, Cardi B Responds
Cardi B has jumped to the defense of her husband, rapper Offset, after he was accused of cheating on her with Tekashi 6ix9ine's girlfriend.
According to Sarah "Jade" Wattley – whose boyfriend is currently imprisoned – Offset allegedly sent her a flirty message on Instagram in the early hours of Tuesday morning, 3 December.
Revealing the message said "Miss u fr [sic]", Wattley called the Migos rapper out in an Instagram post for hitting on her and disrespecting his wife.
Offset then claimed that both his Instagram and Twitter accounts were supposedly hacked – with now-deleted explicit tweets showing up on the latter account soon after he allegedly DMed Wattley.
In a recently posted Instagram video, Cardi B made it clear that she is standing by her man.
She said: "We've been so good … our life has been good, [Offset's] not going to play himself like that. That's why I'm not going to entertain [these cheating allegations], that's why I'm not getting rowdy. Simple as that."
Offset has not yet further commented on the alleged hacking.
Image Credit: Source