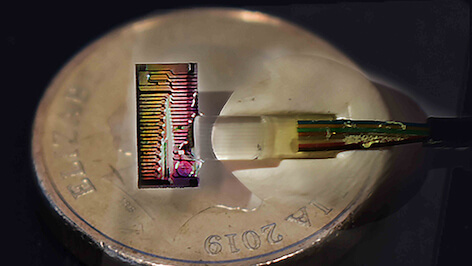 Optical Chip Breaks the Internet (Record Speed)
A collaborative effort between several Australian institutions has led to the development of an experimental chip that has broken Internet data speed records by recording over 44.2 terabits per second from a single source.
Scientists from the Universities of Monash and Swinburne, along with the Royal Melbourne Institute of Technology (RMIT), created the chip using 80 lasers to compress the necessary technology into a device that records data via light.
The test was held in late May, and used 76.6 kilometres of "dark" optical fibres – unused, rented network service provider cables – between RMIT's Melbourne City Campus and Monash's Clayton Campus.
The chip is designed as a "micro-comb" for the light transmitted through the fibre cables, which allows for the transmission to be split into hundreds of signals, allowing multiple channels of communication.
The result produced means the device is so powerful, that it can handle volumes of information similar to over 1 000 people watching "Game of Thrones" in high definition at the same time.
Dr Bill Corcoran, co-lead author of the study, said: "We're currently getting a sneak peek of how the infrastructure for the Internet will hold up in two to three years' time, due to the unprecedented number of people using the Internet for remote work, socializing, and streaming. It's really showing us that we need to be able to scale the capacity of our Internet connections."
Image Credit: Source