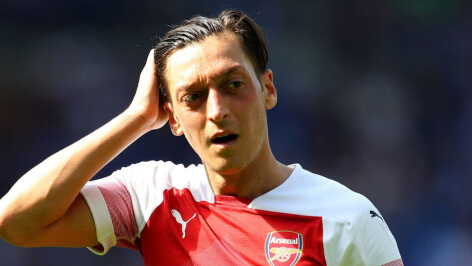 Ozil Throws in the Coat, Silva Responds
Everton coach, Marco Silva, has come to the defence of Mesut Ozil after the skipper allegedly threw his coat at the Toffees' coaching staff during a match on Sunday, 7 April.
The incident reportedly occurred in the 83rd minute. By this time, Silva and Arsenal coach, Unai Emery, were in the midst of a heated confrontation.
They were arguing over Gunners centre back, Shkodran Mustafi, tripping Toffees striker, Dominic Calvert-Lewin, off-ball.
Here, Ozil – who had been substituted in the second half – was seen hurling his coat in the direction of Everton's coaching staff.
Arsenal went on to lose 1-0 to Everton, thus missing out on a chance to take third place on the Premier League rankings.
In a post-match interview, Silva dismissed the incident.
He said: "I didn't see anything, We had that moment during the game, [and] football is emotional in that moment. [Ozil] wants the best for his team, I want the best for my team also."
Silva added: "At the end of the match … I said to [Ozil], 'Best of luck in the rest of your matches'."
Image Credit: Source