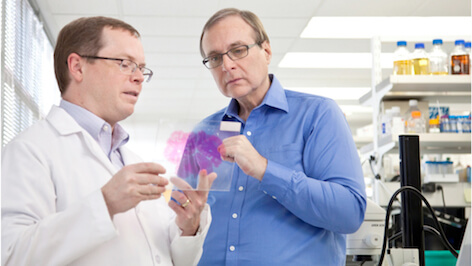 Paul Allen: Microsoft Co-Founder Dies Aged 65
Computer software and technology company Microsoft remembers one of its co-founders today, as the news of Paul Allen's death at age 65 hits headlines today.
Mr Allen died yesterday afternoon, 15 October, from complications fo non-Hodgkin's lymphoma in Seattle.
Allen's company, Vulcan Inc., released a statement, in which they said: "It is with deep sadness that we announce the death of our founder Paul G. Allen, co-founder of Microsoft and noted technologist, philanthropist and supporter of the arts."
Bill Gates, fellow co-founder of Microsoft, admitted in a statement that he was heartbroken by the loss, calling Allen one of his "oldest and dearest friends".
Bill Hilf, the CEO of Vulcan Inc., said: "[Allen's] life was diverse and lived with gusto. It reflected in his myriad of interests in technology, the arts, biosciences, conservation and in the power of shared experience – in a stadium or neighbourhood – to transform individual lives and whole communities."