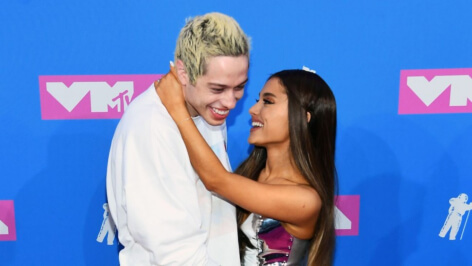 Pete Davidson Blocks Ariana Grande on Social Media
Pete Davidson has reportedly blocked his ex-fiancee, Ariana Grande, on social media.
Speaking to a media publication, a source said that the "Saturday Night Live" star decided to block the "Thank U, Next" hitmaker in order to ensure his well-being.
The source explained: "[Davidson] blocked [Grande] and said, 'Stop reaching out. You're not good for my health. I can't have this in my life.'"
Davidson's decision seems to have been confirmed by Grande herself when she came to his defence after he had been inundated with online abuse.
In a screenshot shared by a fan account on Twitter, the singer wrote: "I care deeply about pete and his health and would never encourage any kind of mistreatment. i haven't seen any of it because i'm blocked but i want you to know that i would never want or encourage that ever and you should know that [sic]."
She added in an Instagram post: "I will always have irrevocable love for [Davidson] and if you've gotten any other impression from my recent work, you might have missed the point."
Image: Ariana Grande and Pete Davidson [online image] (2018) sourced on 6 December 2018 from:
https://media1.popsugar-assets.com/files/thumbor/4E4Zd9q_asPRLyr6W4hhrgIewmg/fit-in/1024×1024/filters:format_auto-!!-:strip_icc-!!-/2018/08/24/665/n/1922398/5a36c06e5b801d01036c65.66804693_/i/Pete-Davidson-Quote-About-Ariana-Grande-Auburn-University.jpg