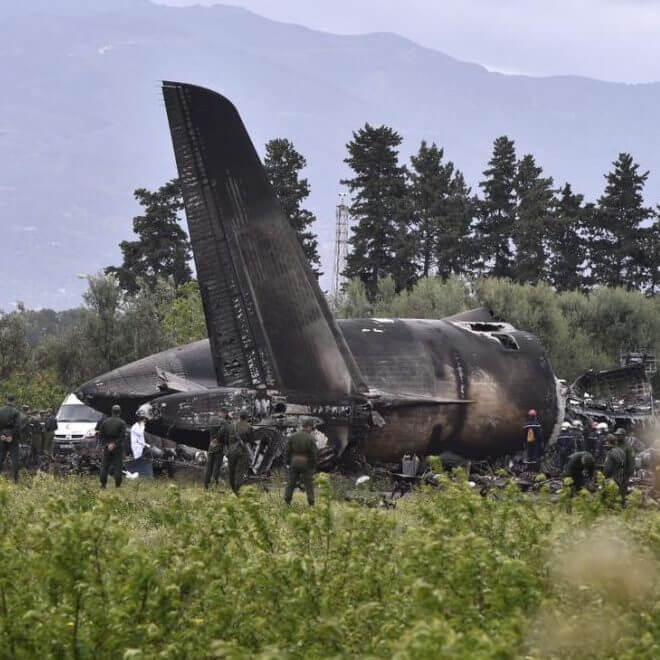 Plane Crash is Algeria's Deadliest Aviation Disaster
A military transport plane crashed near the capital on Wednesday, shortly after takeoff, killing 257 people onboard.
The aircraft plunged down into a field just outside a military base in Boufarik, 30 kilometres south of Algiers.
According to the Defence Ministry, the majority of the dead are soldiers, their family members and a group of 30 people returning to refugee camps from hospital stays in Algeria's capital.
Ten crew members also died.
While there have been no mention of survivors, one witness reportedly saw people jump from the aircraft before it crashed.
Algerian President Abdelaziz Bouteflika has ordered three days of mourning to start immediately, and prayers for the dead on Friday at mosques across the country.
It is not yet clear what caused the crash, which has been declared Algeria's worst-ever air disaster.
An official inquiry into the disaster has been announced, and is reportedly already underway.
Image: The wreck of the aircraft [online image] (2018) sourced on 12 April 2018 from https://images.thestar.com/content/dam/thestar/news/world/2018/04/11/military-plane-crash-in-algeria-kills-at-least-181-people/algeria_plane_crash.jpg.size-custom-crop.1086×0.jpg