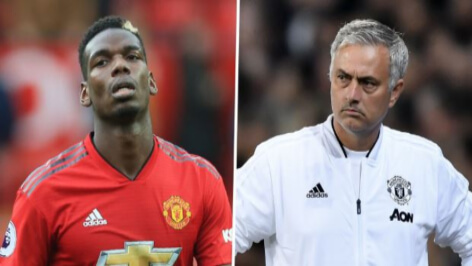 Pogba and Mourinho Spat Caught on Video
Video footage of Paul Pogba allegedly clashing with Manchester United manager, Jose Mourinho, at the club's training ground has emerged online.
According to reports, Mourinho was furious with comments made by Pogba, after the Red Devils' shocking 3-1 defeat to Derby County on Tuesday.
The French midfielder, who was not included in the match-day squad, implied in an Instagram video that the team's approach to the game was wrong.
The alleged spat also comes after Mourinho revealed that he had stripped Pogba of the vice-captaincy, after United drew 1-1 with the Wolverhampton Wanderers last weekend.
The pair were filmed on Wednesday morning at the Trafford Training Centre. In the footage, Pogba is shown shaking hands with first-team coach Michael Carrick, before looking taken aback by a comment that Mourinho had made.
The 25-year-old was then seen sporting an angry expression and then appearing to have a heated discussion with the manager.
Neither party have yet made any official statements regarding the footage.
Image: Paul Poga, Jose Mourinho, [online image] (2018) sourced on 27 September 2018 from https://www.thebreakarea.com/wp-content/uploads/2018/09/paul-pogba-jose-mourinho_19tnpkmyhyceu1pdqrm2gpu1lj-1280×640.jpg