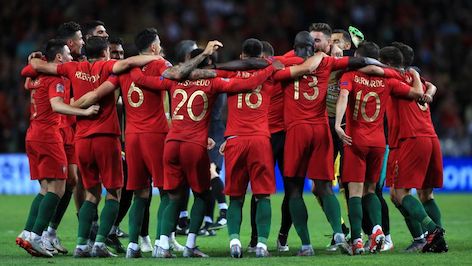 Portugal Crowned Inaugural Nations League Champions
A breathtaking second-half strike from Portuguese winger Goncalo Guedes allowed his team to win 1-0 against the Netherlands, and make history by winning the first ever UEFA Nations League in Porto, on Sunday, 9 June.
The Netherlands team played a skillful game of football, but they failed to make any chances for scoring; Portugal had the final laugh in the second-half as they grew more bold, and put immense pressure on the Dutch opening the way for the game-winning goal at the 60-minute mark.
An expert save from Portuguese keeper Rui Patricio at the 65-minute mark denied the Netherlands any way back into the game, and the closest opportunity to scoring they had all match.
The hosts expected a sizeable audience to fill the Dragon Stadium in the Portuguese city, and what they got was a jubilant crowd that made the rafters quake with excitement after the final whistle blew.
The inaugural win was significant for Ronaldo as he became the first captain to lift the Nations League trophy.
Image Credit: Source