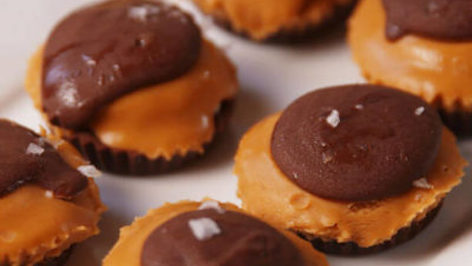 Quick Frozen Desserts
With the hustle and bustle of life, it can be hard to find time to cook, let alone make dessert. Here are two delicious, frozen dessert recipes that you can whip up in no time.
Chocolate Peanut Butter Banana Bites
Ingredients:
1 cup chocolate chips
⅔ cup smooth peanut butter
2 tsp. coconut oil
2 bananas, sliced
Pinch of sea salt
Method:
1. Line a large baking sheet with parchment paper.
2. In a medium bowl, heat chocolate until melted. Then, heat peanut butter for 15 seconds in the microwave until runny.
3. In a medium bowl, mix chocolate and coconut oil until combined.
4. Place teaspoon scoops of the chocolate mix into small baking cups. Top with a slice of banana, a teaspoon-sized scoop of peanut butter, and another scoop of chocolate. Repeat until you have used all your banana slices. Top with a pinch of sea salt.
5. Place tray in the freezer for 2 hours, or until frozen. Serve.
Frozen Cheesecake Bites
Ingredients:
1 cup chocolate chips
1 tbsp. coconut oil
1 cup cream cheese, softened
2 tbsp. sour cream
⅓ cup icing sugar
1 tbsp. raspberry liqueur
Pinch of salt
12 raspberries
Method:
1. In a medium bowl, microwave the chocolate chips and coconut oil until just melted.
2. Pour a teaspoon of the melted chocolate into each cube section of an ice cube tray. Use your fingers or a spoon to cover the sides of the mold completely. Freeze until solid, about 10 minutes.
3. In a medium bowl, combine cream cheese and sour cream and beat until smooth. Add powdered sugar, raspberry liqueur and salt. Stir until fluffy.
4. Fill each ice cube section about halfway with cream cheese, then press a raspberry into the centre of the mixture. Fill the rest of the mold with cream cheese mixture, then top with melted chocolate.
5. Place in freezer until solid, about 45 minutes.
6. Turn ice cube over tray to release the cheesecake bites. Serve cold.
Image: Chocolate Peanut Butter Banana Bites [online image] (2017) sourced on 28 September 2017 from http://del.h-cdn.co/assets/17/22/640×1568/gallery-1496338976-delish-chocolate-peanut-butter-banana-bites-pin.jpg