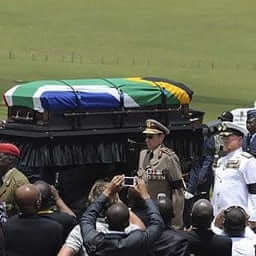 R300m Misspent on Mandela's Funeral
According to a report released by the South African Public Protector, over R300 million was improperly and illegally spent on Nelson Mandela's funeral in 2013.
Advocate Busisiwe Mkhwebane released her findings on Monday afternoon.
Former president Nelson Mandela, who died in December 2013, was laid to rest in his hometown of Qunu in the Eastern Cape.
The beloved icon's funeral was screened throughout South Africa and the world, where crowds gathered to watch it on big screens.
Mkhwebane found that the irregular and wasteful funeral expenditure was caused by three factors: poor planning, greedy service providers, and corruption.
When Madiba died, the Eastern Cape provincial budget had no funds set aside for for his funeral, despite it being known since 2008 that the province would host the event.
Funds intended for sanitation, the replacement of mud schools and the refurbishment of hospitals was diverted to pay for the funeral.
According to the report, a number of opportunistic service providers charged inflated prices, and many did not deliver their services once paid.
Mkhwebane also found spending related to inappropriate relationships with certain service providers, and the misuse of public funds for African National Congress (ANC) activities.
Mkhwebane has asked President Jacob Zuma to pursue her allegations using the special investigations unit.
She also recommends that, from now on, the finance minister set out guidelines for state funerals and that the national treasury budget for the entire event before funds are released.
Image: Nelson Mandela's funeral [online image] (2013) sourced on 5 December 2017 https://i.guim.co.uk/img/static/sys-images/Guardian/About/General/2013/12/15/1387139833692/Nelson-Mandela-funeral-pr-009.jpg?w=620&q=55&auto=format&usm=12&fit=max&s=2e3733e99a08468391e3d6ecb349fa67