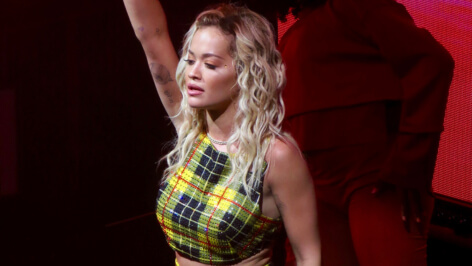 Rita Ora Roasted for Lip-Syncing at Thanksgiving Event
British singer Rita Ora has come under fire from fans on social media for lip-syncing during her performance at the Macy's Thanksgiving Parade.
The 27-year-old was ridiculed online for appearing out of sync as she mouthed the lyrics to her song "Let You Love Me" while performing live on floats during the parade on Thursday, 22 November, in New York City.
A fan tweeted: "Things getting roasted this Thanksgiving: a turkey [and] Rita Ora's absolutely abysmal lip-syncing."
However, John Legend leapt to Ora's defence, tweeting: "Fun fact. We all have to lip sync on this parade because the floats don't have the capacity to handle the sound requirements for a live performance."
Retweeting Legend's post, Ora added: "Thank you for clarifying what I was about to also tweet. It's annoying for us but anyway! All my shows are 100 percent live always have been! [sic]"
Macy's issued an apology via Twitter, citing technical difficulties for derailing Ora and other artists' performances.