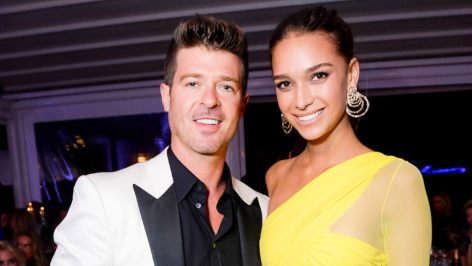 Robin Thicke and Fiancee Safe after Car Crash
Singer Robin Thicke and his fiancee, April Love Geary, are said to be "fine" after they were involved in a car accident in Malibu, California over the weekend.
The couple were travelling along the Pacific Coast Highway in their Cadillac Escalade SUV on Saturday afternoon, 7 September, when the accident occurred.
Reports say that the vehicle – driven by Geary, with Thicke in the passenger seat – collided with another vehicle driven by "young people".
The second vehicle was almost tipped on its side on the other side of the highway. Meanwhile, Thicke was seen emerging from the damaged Escalade and checking if the other vehicle's occupants were safe. 
The "Blurred Lines" hitmaker was also said to be picking up car debris and directing traffic away from the scene of the accident.
Law enforcement sources say that no one involved in the crash suffered any major injuries nor was anyone taken to the hospital.
Neither Thicke nor his representatives have commented publicly on the crash yet.
Image Credit: Source