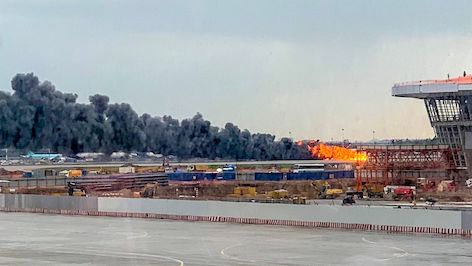 Russian Plane Bursts Into Fireball, 41 Dead
A fire broke out on an Aeroflot Sukhoi Superjet just moments after it made an emergency landing at Sheremetyevo International Airport, Moscow, earlier this morning, leading to a fireball that killed 41 people.
The dead include two teenagers and a flight attendant.
It is reported that 73 passengers and five crew members were aboard when the fire broke out.
Yelena Markovskaya, one of the officials investigating the crash, said: "There are 37 survivors – 33 passengers and four members of the crew."
Reports say that five people were taken to hospital for injuries.
The aircraft had spent less than 30 minutes in the air before it was forced to turn back for "technical reasons".
A harrowing video circulating social media shows the aircraft with its tail-end and wings enveloped in flames, skidding to a stop and the passengers jumping onto the deployed emergency exit slides to escape the burning craft.
Aeroflot has announced no plans to ground its Sukhoi Superjet fleet, whilst local authorities have launched a criminal investigation into the incident.
Image Credit: Source