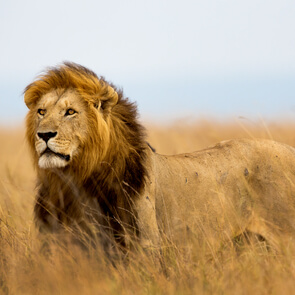 SA: Lion Mauls Owner
The owner of a private game reserve in Limpopo province has been hospitalised after he was mauled by one of his lions over the weekend.
Owner of Marakele Predator Centre, Michael Hodge, had "bottle raised" the lion – Shamba – since birth ten years ago.
Family spokesperson Bernadette Maguire explained that the attack occurred as the 72-year-old owner followed his normal procedure.
She said that Hodge was in Shamba's camp with some tourists in a vehicle fitted with a protective cage.
Hodge usually usually gets out of the vehicle to open the camp's gate before they drive out, while someone outside the camp distracts Shamba.
She said: "Mike does this regularly. Shamba mysteriously turned around on Saturday."
After spotting Hodge, Shamba then chased him and dragged him into the bushes. A staff member outside of the camp shot and killed Shamba to save Hodge's life.
Hodge was immediately rushed to hospital, where it was determined that he had sustained a broken jaw and injuries to his neck during the attack.
His prognosis is reportedly good, provided that infection does not set in.
Maguire added: "He is very upset about the loss of Shamba and I think he is trying to put up a brave face, but he is really battling to come to terms [with] what has happened."