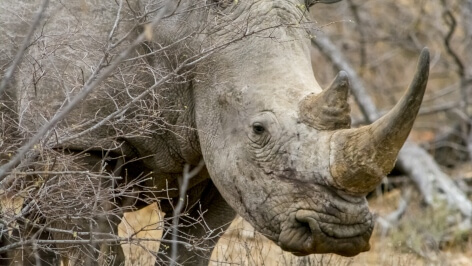 SA Police Seize 167 Rhino Horns
Two suspects have been arrested following a sting operation over the weekend, in which the police seized at least 167 rhino horns in South Africa's North West province.
The operation was carried out on Saturday, 13 April, by Special Task Force, Tracker SA and Vision Tactical in the Hartbeespoort Dam area.
According to Brigadier Hangwani Mulaudzi – the spokesperson for the Hawks, an elite police unit who operates the Special Task Force – they had received a tip-off that a vehicle was carrying rhino horns into the area.
Mulaudzi explained: "It was an intelligence-driven operation that led to the arrest of the two [suspects]. They were found in possession of those 167 rhino horns."
He added: "Rigorous investigations on the two suspects, as well as the value of the horns, are still ongoing."
The horns were reportedly destined for south-east Asia, specifically China and Vietnam, where they are advertised as "wonder ingredients" in traditional medicines.
The suspects – aged 57 and 61, respectively – are set to appear before the Brits Magistrate's Court today, Monday, 15 April.