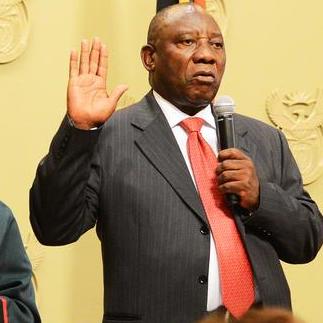 SA: Ramaphosa Sworn In
Cyril Ramaphosa has officially been sworn in as the new president of South Africa.
Ramaphosa was elected yesterday, a day after former president Jacob Zuma finally bowed to party pressure and agreed to resign on Valentine's Day.
South Africa's new president was the only candidate nominated by the National Assembly.
The 65-year-old was elected as the new leader of the African National Congress late last year.
Top brass within the ruling party had been in talks with Jacob Zuma regarding a leadership transition for more than a week.
Eventually the ANC officially recalled the 75-year-old, and told him that if he did not resign they would remove him through a motion of no confidence.
In his farewell speech to the country, Zuma said that he did not agree with the ANC's decision to recall him, but that he would accept his party's orders.
Ramaphosa is set to deliver the State of the Nation Address tonight, and is under pressure to appoint a Cabinet that shows his determination to root out corruption.
Image: Cyril Ramaphosa sworn in [online image] (2018) sourced on 16 February 2018 from https://image.iol.co.za/image/1/process/620×349?source=https://inm-baobab-prod-eu-west-1.s3.amazonaws.com/public/inm/media/image/100991320.JPG