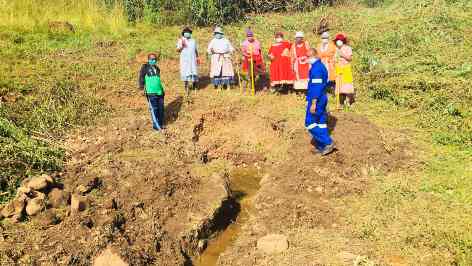 SA: Senior Citizens Provide Spring Water for Village
A group of elderly women have come to the rescue of their fellow villagers in KwaZulu-Natal, South Africa, by digging up an old spring to provide them with unlimited water.
In the village of KwaMnyandu – which is located in Elandskop near Pietermaritzburg – frequent water cuts resulted in villagers having to walk far to fetch water, virtually almost daily.
Now, a group of local senior women have taken it upon themselves to dig up a decades-old spring, which had been abandoned after communal taps had been installed.
The women spent hours cutting and clearing away trees and shrubbery where the old spring was located. Then, with the help of some men from the village, they connected pipes in the spring, which will supply direct water to villagers' homes.
Nothisile Mchunu, of the ladies, said: "God gave us natural water and it is time we use it. Our parents consumed this water and they were healthy. It's time we pass it to the next generation."
Image Credit: Source